Teaching young students how to write by hand before moving on to keyboarding can help improve their reading fluency as well.
July 2, 2019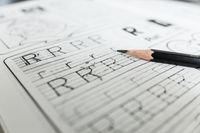 Technology is an undeniable fact of everyday life and can support students' learning. But there are limits to that: Completely replacing handwriting instruction with keyboarding instruction in elementary school can be detrimental to students' literacy acquisition. Why are handwriting and letter formation so important?
Research has demonstrated a correlation between letter-naming and letter-writing fluency, and a relationship between letter-naming fluency and successful reading development. There's a strong connection between the hand and the neural circuitry of the brain—as students learn to better write the critical features of letters, they also learn to recognize them more fluently. This recognition of letters leads to greater letter-writing fluency, which leads to greater overall reading development.
In an article summarizing several studies on handwriting and learning, the writer Maria Konnikova notes, "Not only do we learn letters better when we commit them to memory through writing, memory and learning ability in general may benefit." When students write letters manually, they learn them more effectively. Switching to keyboarding before students have developed handwriting skills may reduce their ability to recognize letters. Konnikova also cites a study that found that students who wrote by hand—as opposed to on a keyboard—were able to generate more ideas. Students with better handwriting demonstrated "increased overall activation in the reading and writing networks" of the brain.